Kum an Do Craft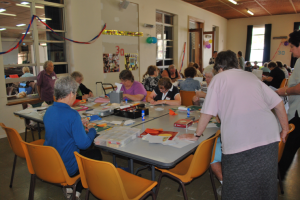 Kum an Do is a creative program designed for women and men of all ages. It is a time to come and chat with others while learning new and interesting crafts. Kum an Do is about being creative, finding new skills, personal resources and fulfilment. It has been a popular place for people of all ages to meet, chat and learn new crafts for over 30 years. Currently there are about 100 people who gather each week.
As well as providing a valuable community service, Kum an Do supports many local organisations through fundraising and also makes clothing for children in Aboriginal communities in the north of South Australia.
Kum an Do is held every Wednesday morning during the school term from 10.00am.