FAQ's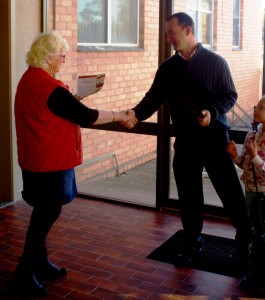 At Whyalla Baptist Church we understand that your first time at a church can be a bit intimidating, especially if you're not coming with someone you already know. We want you to be able to relax and encounter God through the music, message, people and warm atmosphere that make Whyalla Baptist such a great place. Here are some of the most common questions first time guests have:
1. What time is the Sunday Service?
We meet each Sunday morning at 10.00am. God has called us to specifically pray for the city of Whyalla; to do this, we set aside 20 minutes during the service.  The services usually last 90 minutes.
2. What should I wear?
We aren't a formal church. We come to focus on God and worship Him. Casual, comfortable clothes are what we all wear!
3. What's available for my kids?
Most Sundays during school term we offer a high quality kids program called K4J (Kids for Jesus).  Children aged 0-4 are cared for in our creche with lots of play equipment, fun, games and stories.
Primary school aged children have their own program in our Kid's Ministry area that combines fun, learning and prayer.
We also run Youth Programs at various times for young people in school years 7-12.
4. Will my kids be safe?
All our Kid's Ministry Team and Youth Ministry Team have up-to-date Police Checks and are trained in Child Safety.  All of our pastors and leaders have also completed this training.  We abide by the Baptist Churches of SA Child Safety and Professional Standards policies. Click here for more information.
 
5. What will happen in church?
You'll enjoy a laid back morning of contemporary worship music, friendly people and down-to-earth teaching. We expect that God will bless and heal people, and set people free from hurt, pain and addictions.  At the end of every service we offer prayer ministry. We'd love to meet you and share with you.
6. Where is the church entrance?
The church building is located on Racecourse Road; the church entrance is behind the car parking area.  The Administration building is situated on Nicolson Avenue; however, this area is locked outside office hours and isn't an access point for Sunday services.