Children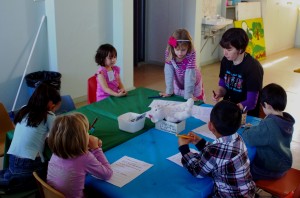 K4J Downstairs is held in the Crèche room and is available for 1-4 year olds during the sermon time in church services.
Two leaders look after the children. The sessions involve playing, singing and reading about God and his love for the children. Parents are asked to sign their children in and out of the room and to the toilet if the need arises. Children are offered a savoury snack during the session.
K4J Upstairs is held in the upstairs area during the sermon time and is available for children who have started Kindy up to Year 6. Two or three leaders (depending on numbers) care for the children. The children begin the session all together and then divide into three groups; Kindy-Year 1 and Year 2-3 and Year 4-6. Age appropriate activities include worship, learning Bible verses, Bible reading, prayer, games, drama and opportunities to serve others in different ways.
All our Children's Ministry workers are trained in Child Safe Environments, have regular police checks and abide by the policies of the Baptist Churches of SA in regards to child safety and professional conduct. BCSA's Child Protection Policy can be found at http://sabaptist.asn.au/wp-content/uploads/2014/05/BCSA-CP-Policy-2014.pdf.  All child protection training is provided by Child Protection Solutions through Baptist Churches of SA, their website is available at http://childprotectionsolutions.com.au/